PRESSURE VESSELS AND SURGE VESSELS
As a leading Pressure Vessels manufacturer in UAE, Berg can provide complete design and analysis of pressure vessels including design and stress reports, fatigue analysis, pipe stress analysis and finite element analysis. Our approach on engineering of pressure vessels is solution-based, drawing on our extensive experience in the process engineering. Pressure Vessels have been manufactured with different type of materials like Carbon Steel, Stainless Steels , Nickel & Nickel Alloys and Cladding of specified materials. we are accredited with ASME "U" and "NB" certifications.
We undertake manufacturing and repair of Surge Vessels and equipment as per ASME / National Board requirements while adhering to the highest quality standards and complying with applicable design codes and industrial specifications.
Our Scope of Work
Design (ASME SEC VIII Div 1, PD5500 etc) & Detailed Engineering
Preparation of Fabrication Drawings
Procurement of Materials
Rolling of Shells and Forming of Dish Ends,
Welding as per ASME Sec IX using qualified welders
Complete Fabrication at our works
Post Weld heat treatment (If required)
Hydro test, All other Non Destructive Tests,
Pickling & Passivation, Painting as per project Specification
Packing and marking as per project specification
Fit up of all internals (if required)
Complete QA/QC Documentation and as-built drawings
ASME U, NB Registration, CE Marking, SONCAP Certification, ARH Documentation etc as required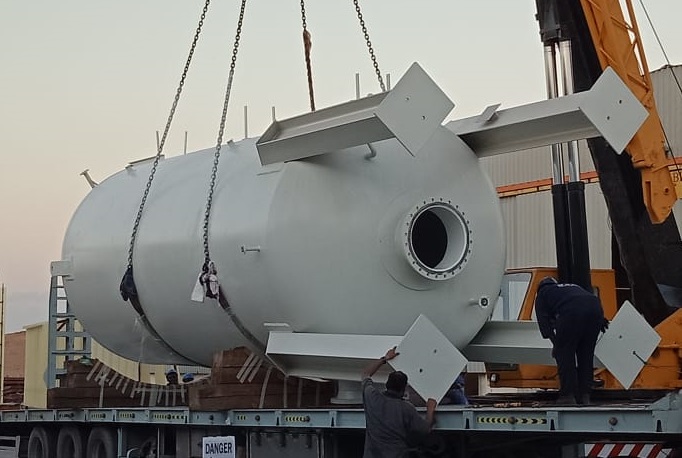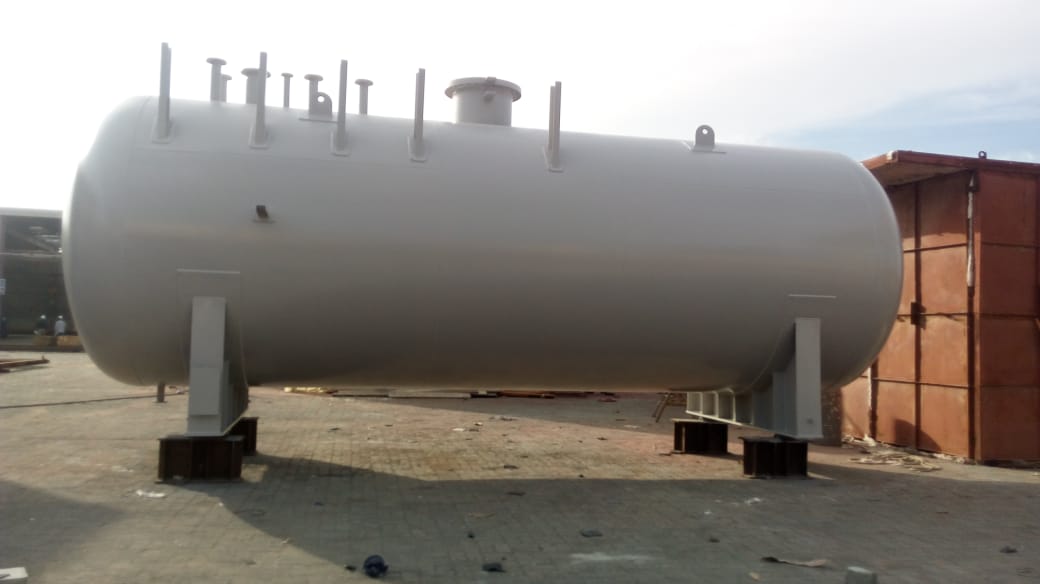 Closed Drain Vessel (ASME Sec VIII Div -I ID-3200 TL-12000.105M3) Project:Hassyan Clean Coal Power Plant Phase 1 End Client:Hassyan Energy
 Surge Vessel (ASME Sec VIII Div -I ID-3060 TL-6800.50M3) Project:EPS 6 and TSE Line From 5th Industrial Area Main STP End Client:Goverment of Sharjah
42.5M3 Surge Vessel(ASME Sec VIII Div -I ID-2900 TL-5700.42.5M3) Project:TSE Transfer Pumping Station Surge Vessel End Client:Goverment of Sharjah
Charcoal filter Vessels(ASME Sec VIII Div -I ID-711 TL-1745) Project:fabrication of Charcoal Filters End Client:Spectra International FZE)
10M3 Bladder Type Surge Vessel (ASME Sec VIII Div -I ID-1710 TL-4000,10M3) Project:2113-202 Fujairah port Landside Works) End Client:ABU Dhabhi Ports
 Bladder Type Surge Vessel (ASME Sec VIII Div -I ID-2000 TL-1500,5M3) Project:Mugharraq port Developement Contract No:2105-202) End Client: Abu Dhabhi Ports
Lime Sludge Thickener (MBBR Tank)- U.A.Q,( ID-3512 TL-2956) Project:150 MIGD RO Desalination Plant End Client:Federel Electricity and water Authority
Bladder Type Surge Vessel (ASME Sec VIII Div -I ID-1500 TL-5600,80M3) Project:WATER Transmission Scheme for Madinat Zayed to Liwa End Client:Abudhabhi Transmission And Dispatch Company
Air Compressor Surge Vessel ((ASME Sec VIII Div -ID:2.5  TL-5.6,30M3) Project:Internel Roads and InfraStructure  in Ras Al Gurab Island
DESIGN, FABRICATION OF PRESSURE VESSELS: PACT ENGINEERING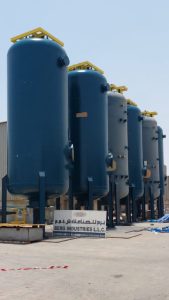 SURGE VESSEL 50M3 (6NOS): JUBAIL 3A INDEPENDENT WATER PROJECT