ACOUSTIC ENCLOSURE AND ROOMS
Our soundproof acoustic enclosures are widely used in the modern industrial world. Berg is an experienced and designer, exporter, supplying equipment  throughout the Middle East. We are one of the leading sound attenuated acoustic enclosure manufacturer GCC for diesel generator / heavy duty industrial machinery equipment.
Berg  manufactures Noise Control Equipment as Acoustic Enclosures, Industrial Silencers, Louvers, and Ducts. For the reduction of Noise made by the machine & mechanical units, we deliver Acoustic Enclosures, Industrial Silencers, Louvers and Ducts tailor made for the particular situation for both indoor and outdoor use. We place highest value on Design & Calculation of Acoustics & Structures to provide stable Design, long life span, ease in dismantling and high acoustic effectiveness. If desired, we deliver enclosures including entire electrical installations, ventilation system, fire and alarm system, as well as other accessories according to the Client's Requirement.
Areas of Application for Acoustic Enclosures, Silencers & Louvers:
Power Generation (30 KVA to 3000 KVA)
Manufacturing Equipment
Pumps
Personnel Shelter, Observation & Control Room
A/C & Refrigeration Room
Compressor, Blower & Fans
 Transformer
Our Scope of Work
Design & fabrication of Acoustics Enclosures
Design & fabrication of Generator Room Acoustics
Design & fabrication of Rectangular & Cylindrical Silencers
Design & fabrication of Acoustic Louvers
Design & fabrication of Exhaust Mufflers & Exhaust Stacks
Our design complies with:
ASTM E90 – Standard Test Method for Laboratory Measurement of Airborne Sound
Transmission Loss of Building Partitions and Elements
ISO 7235 – Acoustics — Laboratory measurement procedures for ducted silencers and air- terminal units — Insertion loss, flow noise and total pressure loss
ISO 3741 – Acoustics — Determination of sound power levels and sound energy levels of noise sources using sound pressure — Precision methods for reverberation test rooms
ISO 140-14 – Acoustics — Measurement of sound insulation in buildings and of building elements — Part 14: Guidelines for special situations in the field
ISO 3744 – Acoustics — Determination of sound power levels and sound energy levels of noise sources using sound pressure — Engineering methods for an essentially free field over a reflecting plane
ISO 3746 – Acoustics — Determination of sound power levels and sound energy levels of noise sources using sound pressure — Survey method using an enveloping measurement surface over a reflecting plane
ISO 6798 – Reciprocating internal combustion engines — Measurement of emitted airborne noise – Engineering method and survey method
ISO 8528-10 – Reciprocating internal combustion engine driven alternating current generating sets — Part 10: Measurement of airborne noise by the enveloping surface method
PRODUCTS
ACOUSTIC ENCLOSURES / DROP DOWN CANOPIES:
ATTENUATORS – GENERATOR ROOMS & TURBINE ROOMS
LOUVERS:
AIR INTAKE & EXHAUST VENTILATION:
Acoustic Enclosure and Fuel Storage Tank
Sound Attenuated Acoustic Enclosure for Generator Set
Sound Attenuated Acoustic Enclosure for Generator Set
Sound Attenuated Acoustic Enclosure for Generator Set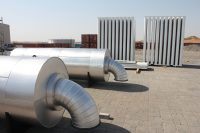 Mufflers & Sound attenuators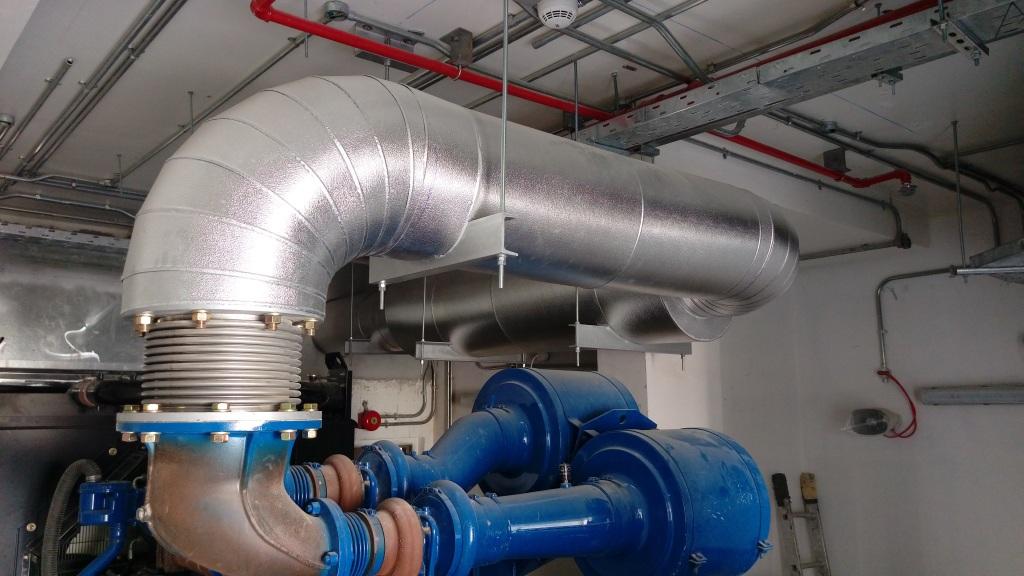 Exhaust Piping Works For Generator
Generator Installation